Mobile Kitchens 3.5×1.8m single axle - Dannhauser
Thursday, 6 February 2020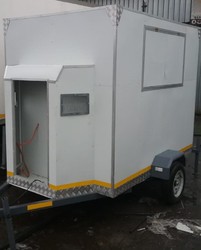 Item details
City:
Dannhauser, KwaZulu-Natal
Contacts

Luno Trading

0656972773
Item description
Mobile Kitchens 3.5×1.8m single axle

2 plate stove, sink, grill, 2
food warmers, cupboard, and counter top

all our trailers come registered

we are the largest manufacture of mobile kitchens because we don't compromise on work ethics and principles.Mobile catering is the business of selling prepared food from some sort of vehicle. It is a feature of urban culture in many countries. In addition to being operated as private businesses, mobile catering vehicles are also used after natural disasters to feed people in areas with damaged infrastructure.
Mobile catering vehicles have also provided a window for advertisers to target the working population and general audience. With a wide variety of display options, lunch truck advertising has exploded into a successful marketing venture for many companies.